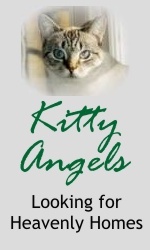 Kitty Angels is a no-kill shelter dedicated to rescuing stray and abandoned cats, furnishing them with treatment for injuries or other health problems, and placing them into life-long, loving homes with compatible owners. We serve the Eastern Massachusetts and Southern New Hampshire areas.
eBay for Charity
Registered with eBay for Charity.
Start selling for Kitty Angels, Inc.